At the Copenhagen event, I got the opportunity to meet all involved with ENHPATHY, which was a real pleasure.
Among the scientific discussions and lessons, we also spoke about our Enhancer in Art projects.
A defining characteristic of art (I think) is that a piece of art is supposed to provoke thought, or at the very least kindle the imagination. Science, at its core, is aimed at understanding the world around us (or inside us). It seems to me thus that science and art are two different entities when we consider their 'purpose'.
However, that is not to say that they have nothing in common. For example, to reach the goal of 'understanding' the world around us, what is required is thought, and in many cases creativity. In the way that a piece of art may induce serious thought and reflection in a patron such that they start to view an issue in a different way – in this same way can issues be tacked in science.
I will be lazy here and refer to the very famous 'double slit' experiment done by Young in 1801, which, together with many efforts from scientists over the globe and across decades, gave rise to quantum mechanics. The point is that the outcome of the experiment (the pattern in the photo) was the same for light, which was thought to be composed purely of waves, and for electrons, which were thought to be particles. This then lead to a lot of thought, and the ultimate conclusion that matter has properties of both waves and particles.
I will provide an update on my Enhancer in art project in the next post!
Pictured below is my poster which was displayed at the Copenhagen event, along with its owner. Thanks to Jean-Mehdi for the photograph!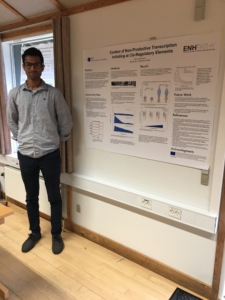 featured image taken from https://ysjournal.com/double-slit-experiment-using-arduino-and-light-sensors/
https://www.enhpathy.eu/wp-content/uploads/2021/10/word-image-1.png
1510
1406
Gaurav Mandana
https://www.enhpathy.eu/wp-content/uploads/2019/11/logo-enhpathy-1.png
Gaurav Mandana
2021-10-04 15:38:58
2021-10-04 15:38:58
Enhancers in Art; Post I