Art and science are intuitively perceived as polar opposites: subjective versus objective, creative versus analytical. However, history provides us several examples of pivotal figures in science that have been able to wear the shoes of the scientist and the artist at once.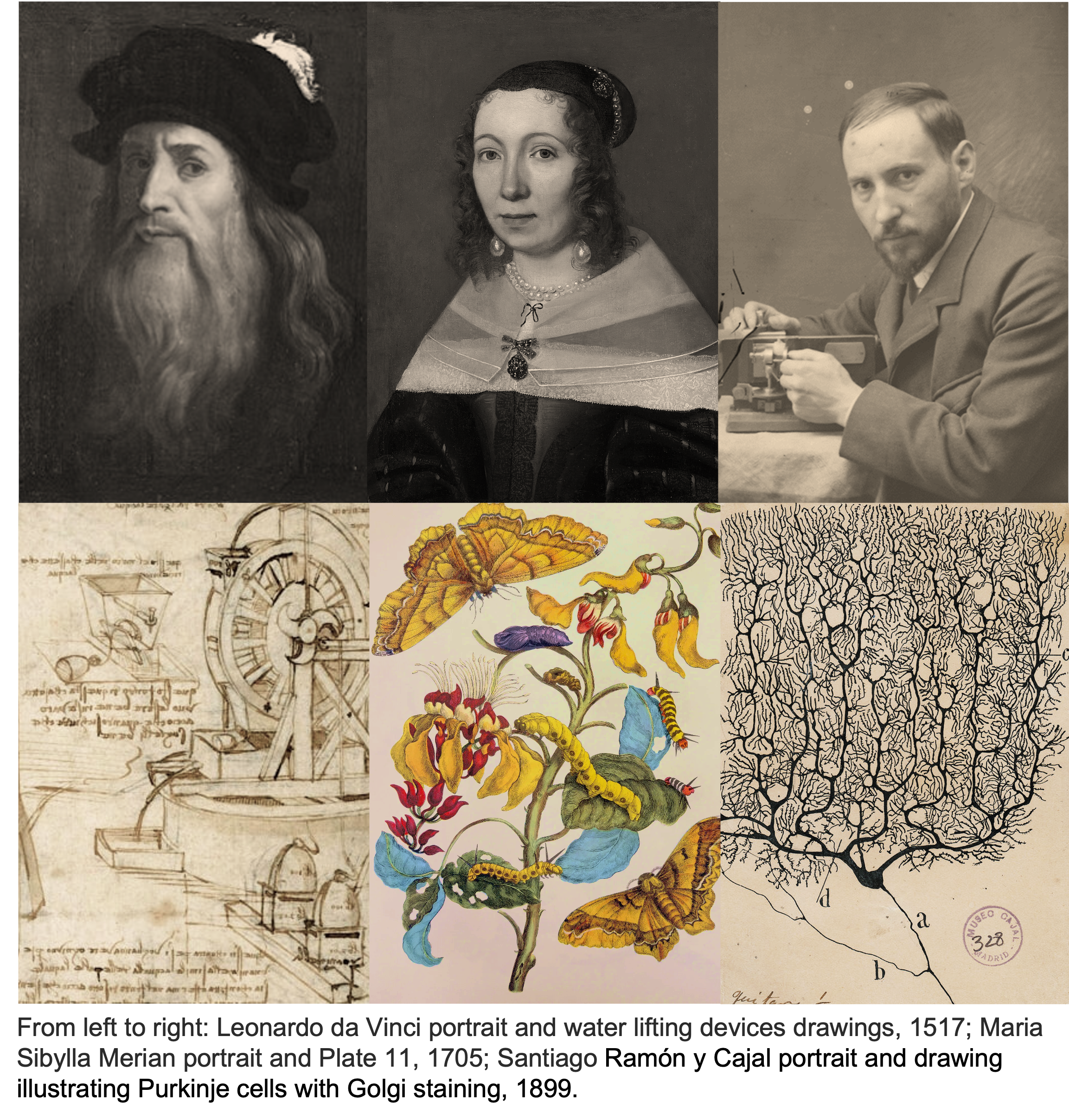 For instance, Santiago Ramón y Cajal (1852 – 1934), Spanish artist, photographer and neuroanatomist, dedicated fifty years to the study of the nervous system, producing a plethora of brilliant illustrations out of his observations. In one of his major writings, 'The neuron doctrine', he presented his theory considering neurons as individual cells sending and receiving information. This theory, recognized today as the basis of modern neuroscience, yielded in the assignment of Nobel Prize in Physiology or Medicine in 1906.
In addition, Maria Sibylla Merian (1647 – 1717), today acknowledged as one of the most important female scientists of the 'Age of Reason' and pioneer of modern entomology. Her observations helped dispel the popular belief that insects spontaneously emerged from mud. Moreover, her detailed descriptions and paintings of exotic insects, portrayed for the first time in their habitats, registered on-site during her travels to South America, inspired generations of artists and ecologists.
Finally, Leonardo da Vinci (1452 – 1519), among the greatest polymaths of the Renaissance, pursued art and science by following his boundless desire for knowledge and artistic expression. His artistic expression was not limited to drawings for inventions and experiences, but also lead him to the generation of masterpieces appreciated worldwide, such as Mona Lisa and Last Supper.
"To develop a complete mind: Study the science of art; Study the art of science. Learn how to see. Realize that everything connects to everything else."
– Leonardo da Vinci
As a young researcher in the ENHPATHY consortium, I am invited to stand on the shoulders of these giants and explore the impact of art on the communication of the value of scientific efforts aiming to unravel the intricate world of gene regulation to the general public.
At the beginning of this adventure, I am looking forward to meet the chosen artist for an initial chat about my PhD project. If you are interested in this challenging experience, you can continue to follow the Enhancer in Art blog, where you will find interesting updates and the final result of this curious experiment.
Links for further reading:
https://www.enhpathy.eu/wp-content/uploads/2021/04/BlogPic_sepia_modif.png
2167
2268
Veronica Erconi
https://www.enhpathy.eu/wp-content/uploads/2019/11/logo-enhpathy-1.png
Veronica Erconi
2022-10-06 08:00:33
2022-10-06 08:37:06
Scientific communication 101: A creative strategy to convey the wonder of your research